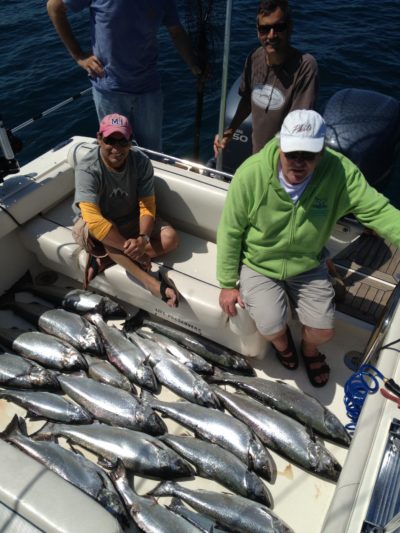 A group up to 6 passengers are allowed at a time. The passengers responsible for their own fishing license and their own food, beverages, and/or alcohol. Bananas are the only kind of food not allowed on the boat. The reason, it's Fisherman Tradition. It is recommended to wear soft soled shoes and bring a jacket or sweatshirt, it is usually colder out on the water. No spray sunscreen is allowed aboard the boat. We have all the equipment and tackle you need, plus we process and bag your catch.
Passenger will need:
A Michigan DNR Fishing License
Proper Clothing – Soft Sole Shoes, Sweatshirt/Jacket, Pants/Shorts, hat and sunglasses\
Suncreen/Sunblock (no spray is allowed on the boat)
Food – Bring your lunch, dinner or snacks and beverages of your choice
A cooler for your catch
Rates
There is a $100 deposit to hold the date, refundable with 2 weeks notice or due to bad weather. Weather call is up to captain's discretion. If you don't catch any fish, there's no fee. We charter all Big Lake Tournaments (call for prices). We accept Visa, Mastercard, American Express, and Discover, and personal checks.
Call 231-499-2339 or Email For Rates
Half Day – 5 hours or Limit
Full Day – 8 hours or Limit
Per Hour Cruises
Cruises are available for $300 per hour, plus fuel surcharge, based on availability. Great option if you are looking for a beautiful sunset cruise or family get together. .